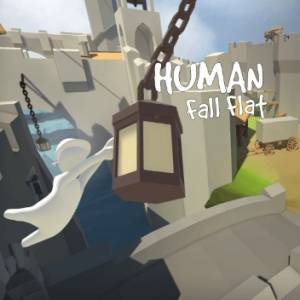 Human: Fall Flat
Developer:

No Brakes Games

Genre:

Platform-puzzle

Version:

-
Download:
humanfallflatgame.net is not an official representative or the developer of this application. Copyrighted materials belong to their respective owners
Official information
| | |
| --- | --- |
| Release Date | July 22, 2016 |
| Developer | No Brakes Games |
| Publisher | Curve Digital |
| Genre | Platform-puzzle |
| Language | English |
| System | Microsoft Windows, Linux, MacOS, PlayStation 4, Xbox One, Nintendo Switch |
| Version | - |
Human: Fall Flat Review: Learning to Walk Again
Human: Flat Fall is an unusual physical puzzle, with a baby-like ragdoll character assigned to solve puzzles on a dangerous playground. Level by level you go through nontrivial missions to complete with your mind and your hands. You can download Human: Flat Fall for PC or another console and try it yourself.
Ragdoll World
It looks like a scene from a kid's dream like they show it in cartoons. Pieces of toy kingdom, with castles, elevators and trains, fountains and windmills, and other wonderful scenes one can imagine. And there's no one around: just you. Your character seems boneless, fragile and weak, but you must know: your powers are enough to do anything here. Just control your moves. If you fall down, you'll return onto the same platform, reincarnating until you complete your mission.
You have just fallen from above onto this ground made for fun, and the game you're playing is exploration and escaping. This little world of marble and electronics, clouds and castles can be extended and turned into some European fairytale of XIX century, full of mechanics and magic at the same time.
Beautiful Like You're a Kid
The way the game is designed reminds of very big and expensive toy castles. Clean, with refined lines, snowy white and antiquely beautiful, with no rubbish and no dust – the world is your big automatized playground. All you need to do is control it right.
It's too correct and clean to be realistic. Platforms floating in the clouds, all made for fun and pleasure, with their special sort of toy beauty. And yes, it's 3D and almost fully interactive. You can climb up stairs unless they're too steep. You fall down if you can't keep the balance. You cannot move an item if it's fixed, but a wagon on rails is rather easy to drag.
You can also select your appearance: from a plain white ragdoll to a princess, a pilot, or an animal. There is a built-in master to help you with that.
It's even greater pleasure when you have someone to share it with. Then your experience from a childish wonderland turns into Hollywood adventure. You'll need to leap from level to level, start and control machinery that requires coordinated efforts, and do together what one never can. That's where you'll really need your appearance customized to tell yourself from the rest of the party.
We should also praise the music in the game. Light and dreamy, it floats like a feather on a cloud, hard to tell one from the other. The album can be bought separately on Steam.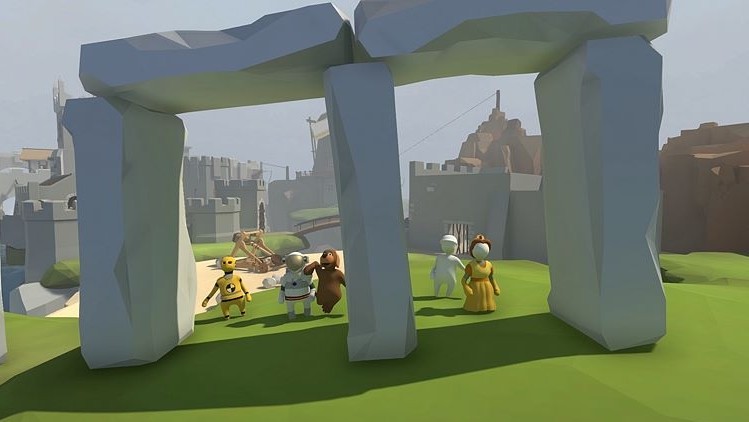 Learn to Move
The essence of the game is making your character move the way you want him (or her, as it's perfectly uni). To walk along you use the conventional WASD, to fall to the ground you need to press T, and the camera moves with the mouse. The most interesting part is controlling the arms: to rise each one you need to press the left or the right mouse button. As you release the button, the arm drops.
This simple mechanism allows you to push elevator buttons, drag trains, and do even more complicated things. It's even more efficient when you're not alone: with one local partner, or up to seven online ones, you can do much more.
Human: Fall Flat for PC partly supports gamepads, but when we tried a generic one (neither Sony nor Microsoft), we could only move the character, but not the camera, so we had to use a mouse along with it. If you prefer feeling that vibrating artificial connector in your hands, you better play Human: Fall Flat for Xbox or Human: Fall Flat for PS4. Each of these consoles provides about the same features with HFF.
Sometimes one character is not enough to solve the problem (in fact, one is always enough in single player, but it's more fun with a multiplayer party). So the game supports local multiplayer with two gamepads (remember, they should be Steam-compatible!) and online multiplayer with up to 8 players. Multiplayer, both local and online, is available both on PC and consoles.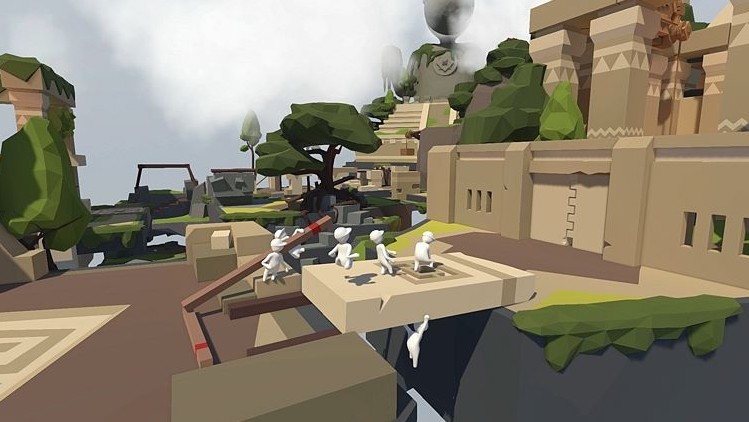 What's The Pleasure?
Enjoying your moves is an art (there's more to it than some might think), and Human: Fall Flat game is here to remind you of that. This game is a dreamy, beautiful, elaborate version of any physical puzzle one can imagine, from escape room quests to Sokoban. And with all its hermetic fairytale feel, the game requires quite an adult logic and insistence in solving the most complicated puzzles. Even making out the entire power of controls is a sort of puzzle.
This unusual, dreamy and brain-training experience is reasonably priced and doesn't require much space. So you can download Human: Fall Flat for PC, Xbox 360 or PS4 even now. It's been first released in May, 2017, so the developers had enough time to fix all the glitches that could have been there, and now it's as smooth as your ragdoll incarnation in it.
But the game still gets updates. For example, in April 2019 it received an update featuring the first Dark level, throwing you into the nighttime. There's never been such an experience before, so this Human: Fall Flat review may soon get obsolete due to lots of innovations.
Human: Fall Flat at any platform
Now, Human: Fall Flat can be downloaded and installed on any devicу! All links you can get at "Get game" page.
Human: Fall Flat for Windows/Mac
You can play this game with OS Windows 7,8,10 or Mac OS X 10.9 and higher. It has minimal system requirements that are suitable for weaker PCs. Game available at Steam platform. But you can't play it at Linux.
Human: Fall Flat for Playstation 4 (PS4)
To play this game you need PS4 and 1.06 GB of free space. Paid PlayStation Plus subscription required for online multiplayer. Also, you can buy additional bundles and cool avatars for your character.
Human: Fall Flat for Xbox One
All that you need to play Human Fall Flat is Xbox One, Microsoft account and 1.34 GB free disk space. The game is constantly updated, additional content is released and new levels are created, so you won't get bored.
Human: Fall Flat for Switch
Nintendo Switch fans can also enjoy Human: Fall Flat. By the way, you can play the game together. You will need 1.6 GB of free disk space to install the game. You can buy it at Nintendo Store.
Human: Fall Flat for Android
Human: Fall Flat was released for mobile devices. Now you can install it on your Android smartphone. System Requirements for Android devices: 5.0 and up APR 40MB free space. You can get it at Google Play Store.
Human: Fall Flat for iOS (iPhone)
You can install Human: Fall Flat on iOS device. The best puzzle game for the whole family. You can play Human: Fall Flat anywhere, from any device. You can get it at the Apple App Store.
A list of iOS devices that are compatible with this game:
Phone 5s, iPhone 6, iPhone 6 Plus, iPhone 6S, iPhone 6S Plus, iPhone SE, iPhone 7, iPhone 7 Plus, iPhone 8, iPhone 8 Plus, iPhone X, iPhone XS, iPhone XS Max, iPhone XR, iPad Air, iPad Air Wi-Fi + Cellular, iPad mini 2, iPad mini 2 Wi-Fi + Cellular, iPad Air 2, iPad Air 2 Wi-Fi + Cellular, iPad mini 3, iPad mini 3 Wi-Fi + Cellular, iPad mini 4, iPad mini 4 Wi-Fi + Cellular, 12.9-inch iPad Pro, 12.9-inch iPad Pro Wi-Fi + Cellular, iPad Pro (9.7‑inch), iPad Pro (9.7-inch) Wi‑Fi + Cellular, iPad (5th generation), iPad (5th generation) Wi‑Fi + Cellular, iPad Pro (12.9‑inch) (2nd generation), iPad Pro (12.9‑inch) (2nd generation) Wi‑Fi + Cellular, iPad Pro (10.5‑inch), iPad Pro (10.5-inch) Wi‑Fi + Cellular, iPad (6th generation), iPad Wi-Fi + Cellular (6th generation), iPad Pro (11-inch), iPad Pro (11-inch) Wi-Fi + Cellular, iPad Pro (12.9-inch), iPad Pro (12.9-inch) Wi‑Fi + Cellular, iPad mini (5th generation), iPad mini (5th generation) Wi-Fi + Cellular, iPad Air (3rd generation), iPad Air (3rd generation) Wi-Fi + Cellular, iPod touch (6th generation), and iPod touch (7th generation).
Top-3 Human: Fall Flat videos
Human: Fall Flat Game Trailer | humanfallflatgame.net

Human: Fall Flat Gameplay trailer for PS4| humanfallflatgame.net

Human: Fall Flat Game Review | humanfallflatgame.net
Download:
By pressing the button below, you will be redirected to official sources of Human: Fall Flat game for installing it. Please note that the game is available for downloading only for Windows PC/Mac/Xbox One/PS4 users. Human Fall Flat installer may require accepting permissions and additional in-app purchases before you can download the game. Follow the link to get more information.